A Festive After-Hours Shopping Event Featuring The Boozy Botanist & The Dapper Doughnut Truck Is Coming Your Way…Bring a Friend!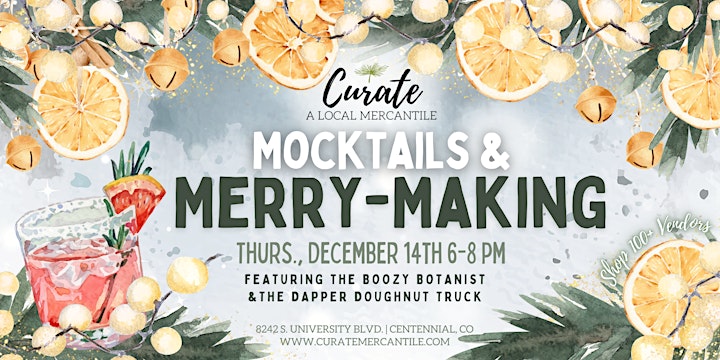 It'll be a joyful time to support local vendors on Thursday, December 14th from 6 to 8 pm at Curate Mercantile in Centennial, Colorado when you join us for a memorable evening at 'Mocktails & Merry-Making' featuring The Boozy Botanist and The Dapper Doughnut Truck!
This free and festive after-hours shopping event highlights over 100 local, small shop vendors offering some truly unique gift-giving ideas in South Denver. The Boozy Botanist will offer two signature mocktails (non-alcoholic drinks) that owner Katie Green is creating especially for this event and she'll provide a recipe so that you can make your own at home. The Boozy Botanist's Infusion Kits and other craft cocktail staples will also be available for purchase to stock your holiday bar or for gift-giving.
The popular Dapper Doughnut Truck will be parked out front with their fresh, made-to-order hot mini doughnuts in a variety of signature flavors. You are going to love these tasty treats! Guests can enjoy a complimentary mocktail or two while they shop. An RSVP is not required, however it really helps us to gauge turn-out if you can let us know you're planning to come. Please click 'register' and we'll send you a reminder e-mail about this fabulous holiday event that you do not want to miss!!