Come By to Sample Some Delicious Cookies from 'Life Is Shortbread' During Their Curate Mercantile Pop-Up Shop in Centennial, CO.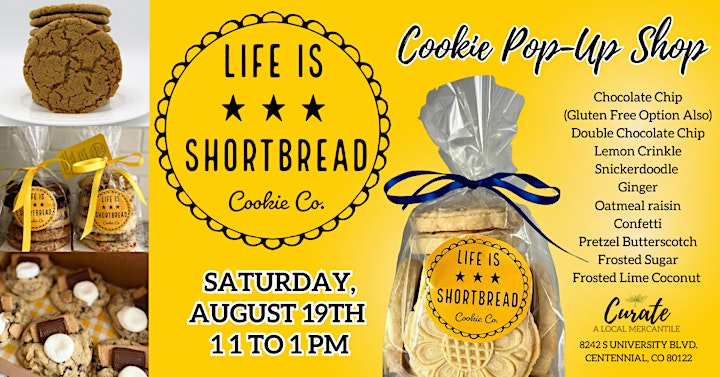 Life is short – eat the cookies!
We've got a sweet new vendor hosting her first Curate Mercantile pop-up shop with us on Saturday, August 19th. Join us anytime from 11 am to 1 pm to sample some delicious locally made cookies from 'Life is Shortbread'. Owner Molly will be on-site to meet and greet with you. Available flavors for this pop-up include:
Chocolate Chip
(Gluten Free Option Also)
Double Chocolate Chip
Lemon Crinkle
Snickerdoodle
Ginger
Oatmeal raisin
Confetti
Pretzel Butterscotch
Frosted Sugar
Frosted Lime Coconut
When you're at Curate Mercantile, enjoy browsing the 100+ local small shops all under one roof. There is a huge Colorado food section that you just have to see, complete with pies that you can take home and bake from frozen – all made locally. There are several clothing boutiques inside of the shop and handmade jewelry makers. Curate Mercantile has regularly been named as 'Best Gift Shop' by Colorado Community Media as well as a 'Neighborhood Fave' as voted on users of the app NextDoor. We are considered a 'happy place' by many!
Curate Mercantile is open daily – come and stop by this pop-up event. We are located at 8242 S. University Blvd. (at County Line Road) in Centennial, Colorado. Open Monday through Friday from 10 am to 6 pm, Saturdays from 10 am to 5 pm and Sundays from noon to 5 pm. If you have any questions, please call the shop at (303) 770-7030 or visit www.curatemercantile.com.
*Please note this is a free event and open to all. No registration is necessary, however, it gives you a reminder e-mail and lets us know the expected turn-out for this event. Thanks for sharing*