Come Sample A Local Favorite – Daddy's Homemade Syrup – During Their Pop-Up Shop at Curate Mercantile in South Denver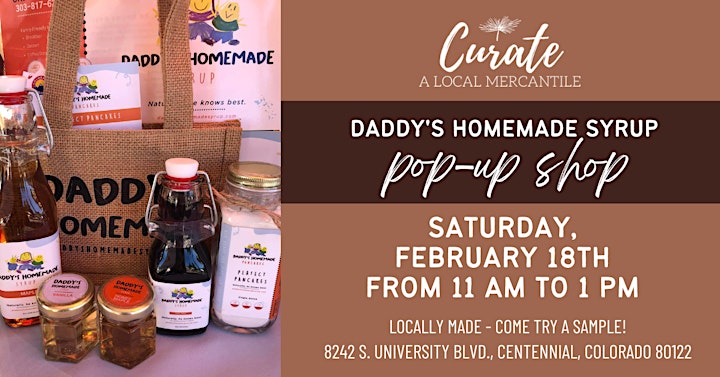 Let's support more local makers and bakers in South Denver during 2023! Join us for some sweet sampling with Daddy's Homemade Syrup during their pop-up shop at Curate Mercantile in Centennial, CO. Based in Evergreen, this Colorado home-based business creates delicious homemade syrup that your family will enjoy. All of their syrups are made with limited ingredients, no preservatives and all natural flavors. Daddy's Homemade Syrups isn't just for pancakes and waffles – add it to your favorite dessert or coffee beverage for a delicious twist. Come see why Curate Mercantile was voted Best Gift Shop in Centennial, CO with over 100 local vendors to browse, all under one roof while you're at the pop-up event.
No RSVP needed to attend, however, if you'd like to receive a reminder e-mail about this event please click on the register button. We look forward to seeing you!