Save the Date – Special Pop-Up Event w/ Cousins Maine Lobster Truck in South Denver on October 3rd at Curate Mercantile!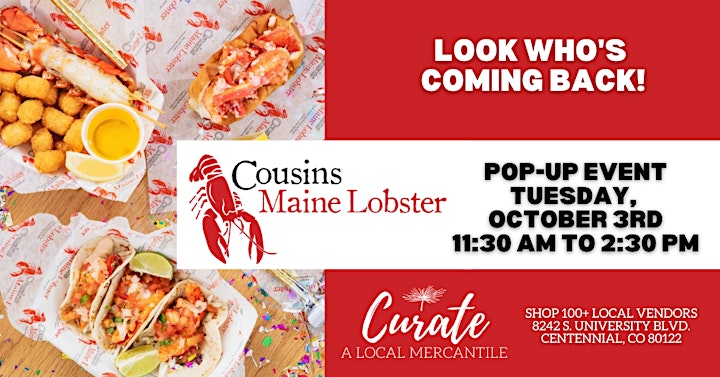 We're happy to announce that the Cousins Maine Lobster food truck will be coming back to Curate Mercantile on Tuesday, October 3rd from 11:30 am to 2:30 pm. You've seen them featured on Shark Tank and The Food Network with their delicious lobster rolls, bisque and specialty items. They'll even have a Take Home Lobster Roll Kit available if you'd like to feed the office or for your family to enjoy. While you're here, experience why Curate Mercantile was voted Best Gift Shop in Centennial, CO with over 100 local vendors to browse. We're the spot to shop local this Fall!
No RSVP needed to attend, however, if you'd like to receive a reminder e-mail about this pop-up event please click on the register button. Bring a friend.