You'll Love Your Sparkly New Colorado Fairy Hair During Their Pop-Up Event at Curate Mercantile in South Denver, Colorado.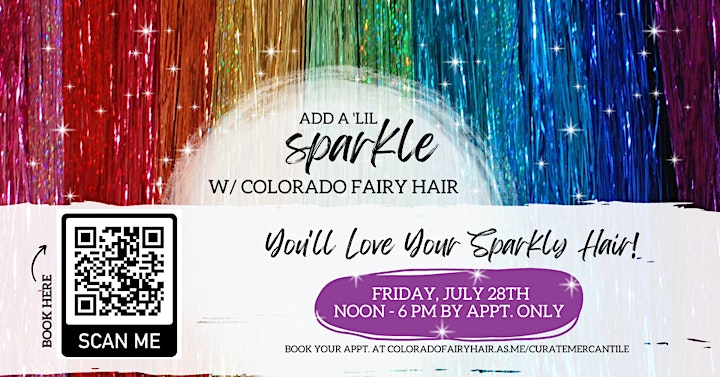 COLORADO FAIRY HAIR @ CURATE MERCANTILE
Come and get a 'lil sparkle added to your hair from Colorado Fairy Hair! Each visit from them has sold out – so please reserve your spot now via their link listed below. Giving an RSVP on Eventbrite WILL NOT save you a spot…read on about how to sign up. This is for a paid appt.
Colorado Fairy Hair will be back at Curate Mercantile on Friday, July 28th from Noon – 4:00 pm. Please note that appointments are booked and paid for through Colorado Fairy Hair. In addition, on this day, Curate Mercantile will be hosting a day-long fundraiser for The Crisis Center, a non-profit based in South Denver that strives to end domestic violence through advocacy, education, and prevention while helping communities free of violence. 10% of each and every sale from the entire day will be donated back to The Crisis Center… come and shop for a cause!
Head Fairy, Rhonda, will be adding fairy hair in 15-minute paid appointments (sign up online at https://coloradofairyhair.as.me/CurateMercantile to reserve your spot). You must have a spot secured as they usually sell out. Signing up on Eventbrite only gives you a reminder e-mail, it does not secure a spot, so you must book your appt. at https://coloradofairyhair.as.me/CurateMercantile to get your spot.
Fairy Hair is thin, colorful iridescent strands that attach to a single strand of your actual hair. You can wash, brush, curl and flat iron your hair (up to 450°!) with your Fairy Hair in place.
It'll be a sparkling good time – we hope you can join us!
Curate Mercantile is located at 8242 S. University Blvd. in Centennial, Colorado (just off of County Line). Shop local and support small business vendors (all under one roof) offering everything from clothing and jewelry to art and Colorado food items. Big things happen when you shop small! #centennialcolorado