Have a Sparkling Good Time At Curate Mercantile's Peach Fest With the Addition of Fairy Hair on August 24th in Centennial, Colorado!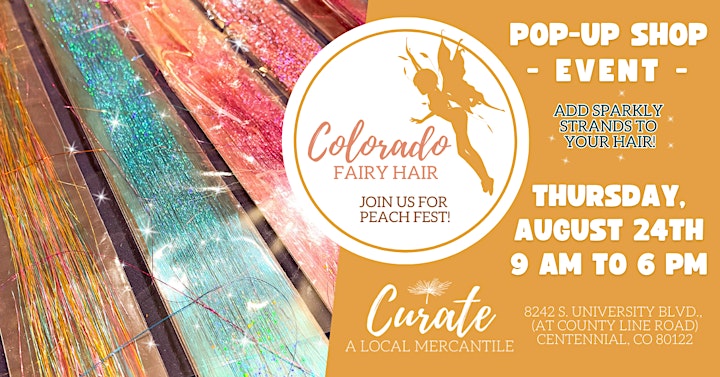 Come and get a 'lil sparkle added to your hair from Colorado Fairy Hair during the big Peach Fest event at Curate Mercantile! Each visit from them has sold out – so please reserve your spot now via their link listed below. Giving an RSVP on Eventbrite WILL NOT save you a spot (only a reminder email)… please read on about how to sign up.
Colorado Fairy Hair will be back at Curate Mercantile on Thursday, August 24th from 9 am to 2 pm with Fairy Summer and Fairy Jenny. Join us for a sparkling good time as you also enjoy 150+ vendors at Peach Fest. All hair appointments will be done inside of the shop.
Please note that appointments are booked and paid for through Colorado Fairy Hair. Paid appointments can be booked by you at https://coloradofairyhair.as.me/CurateMercantile to reserve your spot. Walk-ins will be accepted if time allows.
Fairy Hair is thin, colorful iridescent strands that attach to a single strand of your actual hair. You can wash, brush, curl and flat iron your hair (up to 450°!) with your Fairy Hair in place.
Thanks for sharing this fun event and shopping local!